Press Release – Tuesday, September 6, 2022
Intersolar Mexico 2022 kicked-off. The main business platform for national and international manufacturers and distributors that offer solar energy products and services.
The association SolarPower Europe estimates that the installed capacity of photovoltaic energy could reach 2.3 TW in 2025 worldwide.
With 4.2 GWh of installed capacity, the size of the Mexican thermal solar energy market doubles that of the distributed photovoltaic.
The global demand for green hydrogen is 90 million in the chemical industry alone and it is expected that by 2050 electrolysis will represent more than 50% of the market for obtaining it.
Puebla is the only state at the national level with 5 types of renewable energy: 2 wind plants, 1 geothermal plant, 1 solar park, 3 bioenergy plants and 21 hydroelectric plants.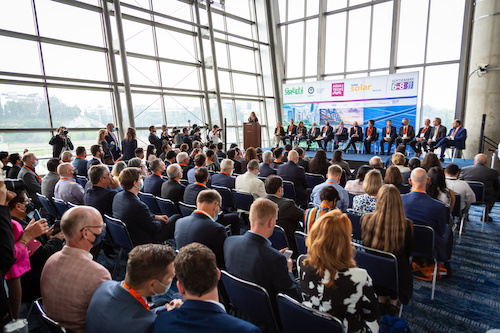 Mexico City, September 6, 2022.- During the kick-off of Intersolar Mexico, specialists from the solar energy industry, the world's most important markets and supply chains met, in addition to the participation of manufacturers, suppliers, distributors and industry partners to increase awareness as well as develop the advantages of these alternative energies.
According to Dr. Florian Wessendorf, Managing Director, Solar Promotion International GmbH; Intersolar Mexico contributes to the economic and sustainable reactivation of the country and is part of a comprehensive platform of solutions based on renewable energy sources and innovative technologies in the same place. "Despite an unprecedented pandemic, we have entered the era of solar terawatts and global PV capacity has doubled in a span of 3 years, reaching one terawatt in April 2022. The next step is even more promising. The association SolarPower Europe estimates that the energy installed capacity of photovoltaic energy may reach 2.3 TW in 2025 worldwide. Citizens, companies and governments around the world are recognizing the immense power of the sun to ensure energy sovereignty, defend the climate and alleviate extreme energy prices. In this way, the growth of the solar industry continues to be encouraging", he highlighted.
Wessendorf indicated that the high potential for solar energy in Mexico makes it one of the most attractive markets in Latin America. "Not only is the market share of photovoltaic energy growing in the energy mix, but also the share of solar thermal. The abundance of the solar resource, the high energy prices, the dependence on gas imports, the reduction in the costs of technology and the growing need to diversify resources, combine to place Mexico among the world leaders in development solar. While the growing number of solar installations is also stimulating the energy storage market, new technologies could play a key role in increasing the flexibility of the energy sector in the near future."
In the International Conference Program of Intersolar Mexico, the main issues related to solar energy were analyzed, in this regard Nelson Delgado, General Director of ASOLMEX, explained that from 2017 to 2022 the large-scale solar installed capacity increased 37 times and currently it has a capacity of 8,130 MW. "In 2017, solar capacity represented just 0.25% and currently it is 5.5%, which is equivalent to 20% of the clean energy produced in the country. In America, Mexico ranks third in installed capacity only below the United States with 93,713 MW and Brazil with 13,055 MW".
Rodrigo L. Sauaia, CEO of ABSOLAR Brazil, commented that the energy in Brazil reaches 1 TW of installed capacity and it is projected to double the figure by 2025. This represents a 10-year difference for our country. "Mexico and Brazil dominate Latin America's solar energy markets. Since 2012, the Brazilian photovoltaic solar sector has generated more than 524 thousand accumulated jobs and this year, the photovoltaic solar source was the most competitive compared to the average prices of sale of energy.
With 4.2 GWh of installed capacity, the size of the Mexican solar heating market doubles that of the distributed photovoltaic. Industrial applications are increasing as fossil fuel prices remain high and the need to decarbonize industrial processes becomes more relevant.
In this regard, María del Carmen Alduncin, Commercial Director of Modulo Solar reported that 30% of the thermal energy used in Mexico at an industrial level is low temperature. 21% is medium temperature and 49% requires the use of high temperatures. "We must continue promoting the use of solar thermal energy. There are opportunities such as tax incentives and government programs that enhance the use of solar heaters, as well as better and new thermal heating systems with Mexican technology that have national and international certifications and financing."
"The competitiveness of solar heat for industry is strategic since Mexico is committed to reducing emissions to 22% by 2030 and industry in Mexico is responsible for 17% of total CO2 emissions. In addition to other national goals such as the generation of 35% of electricity from energy sources by 2024, 37.7% by 2030 and 50% by 2050", assured Alduncin.
For her part, Katia Bernal, CEO of Citrus, explained that in Mexico 70% of energy comes from imported natural gas, which makes it susceptible to price increases according to demand. "Energies need to be diversified, since in the installation area world growth was 3% in 2021, of which Mexico grew 7%."
The services sector is a market segment with high potential for solar thermal technologies given its high consumption of hot water. Technology acquisition and/or energy purchase models are essential for greater market participation. During his presentation, David Contreras, Manager of Solar Thermal Projects at Sunnergy, mentioned that solar thermal technology can be applied to 5 million Economic Units in the commercial and industrial sector, of which 177 thousand are potentially candidates for applications of this type of technology, is equivalent to 9 billion pesos. "There is potential in supply and demand, not all areas have been explored yet and they represent a model of opportunity for professionalization and innovation".
Jesús Antonio González, Project Manager of Termosolar Panama commented that they work together with UN Environment, taking advantage of thermal energy for the residential, hotel, public health and agro-industrial sectors. The goal is to install one million m2 of solar water heaters by 2050.
At the Business Models in the Solar Industry conference, the use of green hydrogen and its worldwide demand were highlighted. According to Juan Antonio Gutiérrez, Senior Consultant at NTT Data, the global demand for green hydrogen is 90 million in the chemical industry alone and it is expected that by 2050 electrolysis will represent more than 50% of the market for obtaining it. "Green hydrogen can help grow high-voltage solar thermal energy, since in Mexico it is only applied in low and medium voltage without compromising water or using fossil fuels".
Regarding the actions being implemented by the National Solar Energy Association (ANES) to promote gender equality, Dulce Guevara, ANES Vocalía for Inclusion and Gender, pointed out that the energy sector is predominantly male, being one of the main sectors of the economy where inequality materializes. "Financing is restricted to many women. In our country, of the 30% of women who can start working, they cannot access the labor market, 70% of them are taking care of someone else, which is vulnerable and can be a factor of another type of violence".
Guevara also referred to wage inequality, lack of enabling conditions, mobility requirements, lack of information and professional networks, as well as prevailing hiring practices with unequal access. "In the sector only 32% are women. In the specific case of energy and oil they are 22% and the majority that represents 45% are in administrative positions, 28% in STEM positions and 35% in technical positions", she asserted.
Regarding Public Policies, Ermilo Barrera, General Director, Energy Agency of the State of Puebla, stated that 50% of Puebla's electricity is produced with clean energy. "It is the only state at the national level with 5 types of renewable energy: 2 plants wind farms, 1 geothermal plant, 1 solar park, 3 bioenergy plants and 21 hydroelectric plants".
It also reported that Puebla is in 19th place at the national level with an installed capacity of 40.99 MW and in distributed generation to 2022 2,307.41MW, increasing by 92.8% since 2020, in addition this entity has an average annual irradiation of 5.6kWh/m2 per day. "In the short term we expect to install a capacity of 2,811MW, growing 6.85% and benefiting 39,000 people and 54 public buildings," he remarked.
During his speech, Alberto Valdés, General Directorate of Energy Development and Sustainability, SEDECO CDMX, explained that Ciudad Solar is a program that provides training and solar heaters, has public buildings with photovoltaic, solar markets such as the Central de Abastos and provides 20% support for SMEs with lost funds.
Regarding transportation, Valdés described that in Mexico an electric car has an electric performance of 6.89km/kWh while a car with fuel oil has 1.53km/kWh and with gas 3.07km/kWh. "The solar trolleybuses have an annual consumption of 24.6GWh and represent savings of 3.3 Mexican pesos per kWh," he concluded.
Karen Jackson, Director of Linkage with Strategic Areas of the Jalisco State Agency, mentioned that this entity is a leader in distributed generation in homes with an installed capacity of 349.99MW. 35% of state energy comes from renewable sources through solar farms (7.92MW), viborillas (100MW) and paddocks 282Mw.
"Until 2015 in Jalisco, 3.2% of households had a solar water heater. This represents 57% of the sector, 38% corresponds to businesses and public services, while 5% to industry. Our State has a goal for 2024 of 10 government buildings with their own supply of renewable electricity and 40% of government facilities with renewable energy, in addition to enabling 8 tourist modules of the Magical Towns and 401 renewable energy generation projects in systems agricultural products to promote rural development," said Jackson.
In this way, Intersolar Mexico becomes a key moment and a strategic ally in solar energy for renewable solutions, highlighting its leadership as the main platform that brings together manufacturers, suppliers, distributors and partners of the solar photovoltaic, solar thermal and electric storage industries.
The third edition of Intersolar Mexico takes place simultaneously with the 29th edition of THE GREEN EXPO® and the sixth edition of Aquatech Mexico.
For more information visit:
www.intersolar.mx
About the organizers:
About Intersolar Mexico: Intersolar Mexico makes its 2019 debut as the industry's go-to source for the biggest technology trends and best B2B contacts in the up-and-coming Mexican solar market. Intersolar is the world's leading exhibition series dedicated to the future of clean energy. Intersolar Mexico is organized by Solar Promotion International GmbH, Freiburg Management and Marketing International GmbH (FMMI) and Tarsus Mexico.
With over 30 years of experience, Intersolar has the unique ability to bring together members of the energy industry from the world's most influential markets and supply chains. Exhibitions and conferences are held annually in Munich, San Diego, Sao Paulo, Mexico City, Gandhinagar and Dubai.
About Tarsus México: It is the organizer with the longest history in the Mexican market since 1991, presenting international quality events with trends, innovations and the global and local panorama of the industries it promotes, such as PLASTIMAGEN® MÉXICO, EXPO MANUFACTURA®, THE GREEN EXPO®, AQUATECH MEXICO, GREENTECH AMERICAS. Tarsus Mexico is part of the Tarsus Group, one of the most important organizers worldwide. Headquartered in London, Tarsus Group organizes more than 180 events such as Tarsus Medical, Connect Meetings, Dubai Air Show, PLASTIMAGEN® MEXICO and the Labelexpo world series. www.tarsus.mx www.tarsus.com
Press and Public Relations contact. Monica Aviles Unda PR Manager / Tarsus Mexico monica.aviles@tarsus.mx