Join the International Exhibition and Conference for the Solar Industry - Mexico City, September 5–7, 2023
Intersolar Mexico serves as the industry's go-to source for invaluable technology trends and premier B2B contacts in the promising Mexican solar market. Intersolar Mexico sits at the cross-section of photovoltaics, solar heating & cooling technologies, and energy storage.
Together, the co-located events are the largest gathering of professionals in Mexico for international manufacturers and distributors looking to meet regional buyers in the fields of solar, renewable energy and cleantech. 300+ exhibitors and 11,000 visitors from over 35 countries are expected to participate.
Quick Facts
Exhibition Segments and Target Groups
Exhibition Segments
Photovoltaics
Energy Storage
Solar Power Plants
Grid infrastructure
Other
Exhibitor Profile
Manufacturers
Suppliers
Distributors
Service Providers
Project Developers/EPC Contractors
System Integrators
Research Institutes
PV Equipment & Materials Manufacturers
Visitor Profile
Installers and System Integrators
Distributors
Project Developers/EPC Contractors
Architects
Manufacturers and Suppliers
Investors and Analysts
Utilities
Government Officials/Policy Makers
Co-located with The GREEN Expo®, Aquatech and Mexico WindPower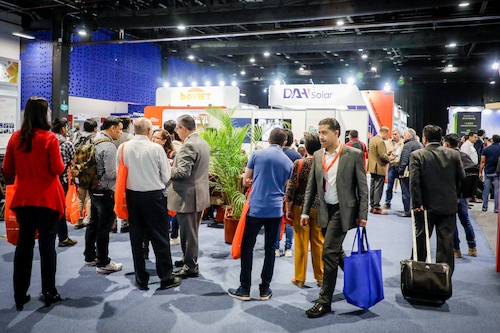 The GREEN Expo is Latin America's premier event for cutting-edge, sustainable solutions and technologies in an ever-increasing number of markets. The co-location of The GREEN Expo and Intersolar offers a platform to discuss the latest developments, innovations, chances and challenges a sustainable and renewable (energy) world bring up.
The GREEN Expo is the most important event in Mexico and Latin America for industries interested in Profitable Solutions within a Sustainable Circular Economy.
Aquatech is an international exhibition that presents innovative solutions and treatments for the water sector, integrating the most advanced technology for the water industry.
Mexico WindPower has become a point of reference for the wind energy industry in Mexico. Since the first exhibition it has showcased the most relevant and challenging developments in the industry, both nationally and internationally.