Press Release – Tuesday, May 10, 2022
SolarPower Europe's flagship Global Market Outlook for Solar Power finds that, for the 9th consecutive year, global solar power has broken its annual installation record with 168 GW of new solar PV capacity in 2021. In 2022, global solar is expected to continue the decade-long record-breaking streak, installing more than 200 GW of solar for the first time.
Download the Global Market Outlook for free
Munich, 10 May 2022 – Launched in Munich at the world's leading exhibition for the solar industry – Intersolar Europe – SolarPower Europe's latest Global Market Outlook reveals that worldwide, solar is entering a new era of Terawatt solar.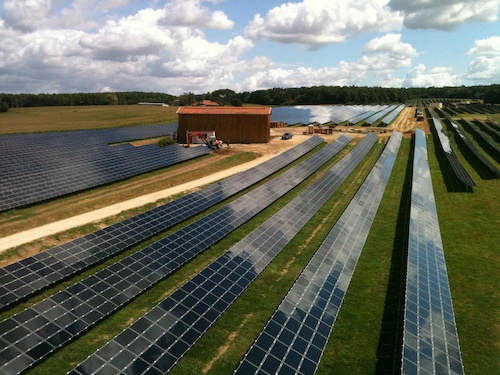 This latest edition of the annual report showes that despite an unprecedented pandemic, global solar capacity doubled in 3 years from 2018, bringing the world's solar fleet to one Terawatt capacity in April 2022.
The global solar market is growing exponentially. It took around a decade for world-wide solar capacity to reach 1 TW, from 100 GW in 2012. In just 3 years, SolarPower Europe predicts global solar to more than double to 2.3 TW in 2025.
2.3 TW represents twice the gross electricity production of France and Germany combined.
Aristotelis Chantavas, President of SolarPower Europe said: "The world has entered its solar Terawatt age and will hit the 2 TW mark within the next three years. Citizens, businesses, and governments around the world are recognising the immense power of the sun to secure energy sovereignty, defend the climate, and provide relief from extreme energy prices. The European solar Terawatt age is within reach, and possible with an ambitious and determined EU Solar Strategy."
Solar remains the fastest growing renewable energy, representing over half of the 302 GW of renewable capacity installed internationally in 2021. With 168 GW of additions, solar installed over 70 GW more than the next greatest installer – wind – and more than all non-solar renewables combined.
Michael Schmela, Director of Market Intelligence at SolarPower Europe: "Solar growth remains upbeat. As a technology traditionally acknowledged for its versatility in tackling climate change, the strategic geo-political importance of solar is now being recognised on the world stage. No other energy technology can be deployed as fast as solar."
EUROPEAN INFLUENCE
The Europe region* continued its positive solar trajectory, achieving 31.8 GW of additional solar capacity – representing 33% growth and notably only a 0.1 GW difference to our 2021 Global Market Outlook projections. The impact of the Russian war on Ukraine, and the accompanying energy security challenges, alongside EU climate goals, are driving the continent's renewable transition – with 25 of 27 EU member states set to install more solar in 2022 than 2021.
Walburga Hemetsberger, CEO of SolarPower Europe said: "As the continent reels from the Russian war on Ukraine, the EU has refocussed its attention on the role of renewables in energy security. We soon expect the European Commission updated REPowerEU proposals to reduce Europe's dependence on Russian gas. European solar can install 39 GW this year - replacing 4.57 BCM of Russian gas. The real acceleration will be done in the medium term, with upwards of 100 GW of annual installations by 2025 paving the way to 1 TW of solar by 2030."
ASIA PACIFIC CONCEDES MARKET SHARE
With a 14% annual growth rate and an all-time high of 54.9 GW of new solar, China kept its market leadership in 2021, adding twice as much solar power capacity than the second-largest market, the United States. The United States nonetheless saw impressive growth, with 42% more additional solar in 2021 than 2020. India reclaimed it's third position with 14.2 GW of solar installations.
Though the Asia-Pacific region retained the majority global market share with 56% of solar installations, from 2020 the region conceded 6 percentage points of market share to the Americas and Europe, who represent 22% and 19% respectively.
LATIN AMERICAN POTENTIAL
Written in collaboration with the Global Solar Council, and the Brazilian solar association ABSOLAR, this year's edition of the Global Market Outlook pays particular attention to Latin America, and its bright promise for solar power. 2021 saw the region increase its annual solar installations by 44%, with 9.6 GW new solar capacity. Projections for 2026 suggest that by then, the region could be growing by up to 30.8 GW per year. Analysis finds that Latin America's solar leader, Brazil, is set to become one of the top five global markets in the next five years, reaching 54 GW total solar capacity by 2026.
Download the Global Market Outlook for free
*Europe region = EU27 + Albania, Armenia, Azerbaijan, Belarus, Bosnia and Herzegovina, Georgia, Iceland, Kosovo, Montenegro, North Macedonia, Norway, Russia, Serbia, Switzerland, Turkey, Ukraine, and the United Kingdom.
About SolarPower Europe
SolarPower Europe is the award-winning link between policymakers and the solar PV value chain. Our mission is to ensure solar becomes Europe's leading energy source by 2030.
As the member-led association for the European solar PV sector, SolarPower Europe represents over 260 organisations across the entire solar sector. With solar sitting on the horizon of unprecedented expansion, we work together with our members to create the necessary regulatory and business environment to take solar to the next level.
About Intersolar Europe
Intersolar Europe is the world's leading exhibition for the solar industry. It takes place as part of The smarter E Europe – the continent's largest platform for the energy industry. It focuses on photovoltaics, solar thermal technologies and solar power plants.
Under the motto "Connecting solar business," manufacturers, suppliers, distributors, service providers and project planners and developers from around the world meet in Munich to discuss the latest developments and trends, explore innovations firsthand and meet potential new customers. Intersolar Europe will take place from May 11–13, 2022, at Messe München.