Four Major Events Accelerate the Energy Transition in Mexico With a Total Attendance of More Than 11,000 People and 400 Exhibitors
Press Release – Thursday, September 14, 2023
THE GREEN EXPO, Intersolar Mexico, Aquatech Mexico and Mexico WindPower announce their next edition from September 3-5, 2024, at Centro Citibanamex, Mexico City.
With resounding success THE GREEN EXPO® celebrated 30 editions as a benchmark in green business.
Intersolar Mexico almost triples its size with a particular growth in the number of exhibitors from the energy storage sector.

Mexico City, September 14, 2023 – The 4th edition of Intersolar Mexico was held in parallel with the 30th edition of THE GREEN EXPO®, the International Environmental Congress of CONIECO, the 7th edition of Aquatech Mexico, and the 11th edition of MEXICO WINDPOWER®. All four international events were a resounding success and exceeded all expectations.
More than 11,000 attendees gathered over three days to learn about a broad horizon of technologies, network among industry peers and share knowledge on solar and wind power generation, environmental management and water technologies in one place.
According to José Navarro, director of Tarsus, the simultaneous holding of these magnificent events was a valuable opportunity to bring together multiple communities such as government authorities, high-level professionals and decision makers from major industries in a dynamic environment that fostered innovation and sustainable development.
More than 400 companies from Mexico, Germany, Australia, Austria, Brazil, Canada, China, Spain, the United States, India, Italy, Japan, the Netherlands, Panama, the United Kingdom, Thailand, Taiwan and the United States, among others, participated on the exhibition floor.
The 30th edition of THE GREEN EXPO® was a strategic meeting point for environmental experts, who warned about the urgency of addressing the problem of climate change through incentives and public policies, because it is a global position and the actions implemented by Mexico have failed to have an impact on the ecological and climate emergency.
Today, Mexico is in 13th place among the G-20 countries that are carrying out climate initiatives, increasing its overall score from 44% to 46% for the improvement of low-carbon emission policies. However, Mexico is placed below India with 47%, Australia 50%, China 60%, Canada 63%, Japan 65%, the United States 67%, the United Kingdom 72%, Italy 73%, France 82% and Germany 83%.
Carlos Sandoval, President of CONIECO, was recognized for his visionary work as an agent of change and for 30 years he has been promoting the true commitment of businessmen to the environment. Thanks to his disruptive mentality and business empathy, he was part of the environmental commission of the North American Free Trade Agreement (NAFTA), a significant achievement, since it was the first treaty that included clauses on environmental issues, setting a precedent.
In addition, THE GREEN EXPO SEAL was awarded to the Alimento Para Todos I.A.P. project, a proposal to implement a circular and sustainable economy model in the production and sale of bread crumbs.
Dr. Florian Wessendorf, Managing Director, Solar Promotion International GmbH, highlighted the great success of the 4th edition of Intersolar Mexico with an exhibition floor that almost tripled in size. Decision-makers and investors from Mexico and abroad found a great diversity of solutions and the latest technologies of the solar industry from Mexico, Germany, Brazil, China, Panama, Turkey, among other countries. The notable participation of exhibitors from the battery and storage sector reflects the strategic importance and potential of these topics in Mexico.
The Intersolar Mexico Conference 2023 took place over the course of two days with conference sessions and panels discussing the latest market trends in Mexico as well as innovations and success stories in photovoltaic, solar thermal and energy storage. The podium was attended by 43 specialists, 49% of whom were women experts in energy and solar energy, as well as speakers from Germany, Sweden, Spain, Belgium, Puerto Rico and Argentina.
In addition, three successful workshops on solar project sales and 17 free technology talks were held on the Intersolar Stage.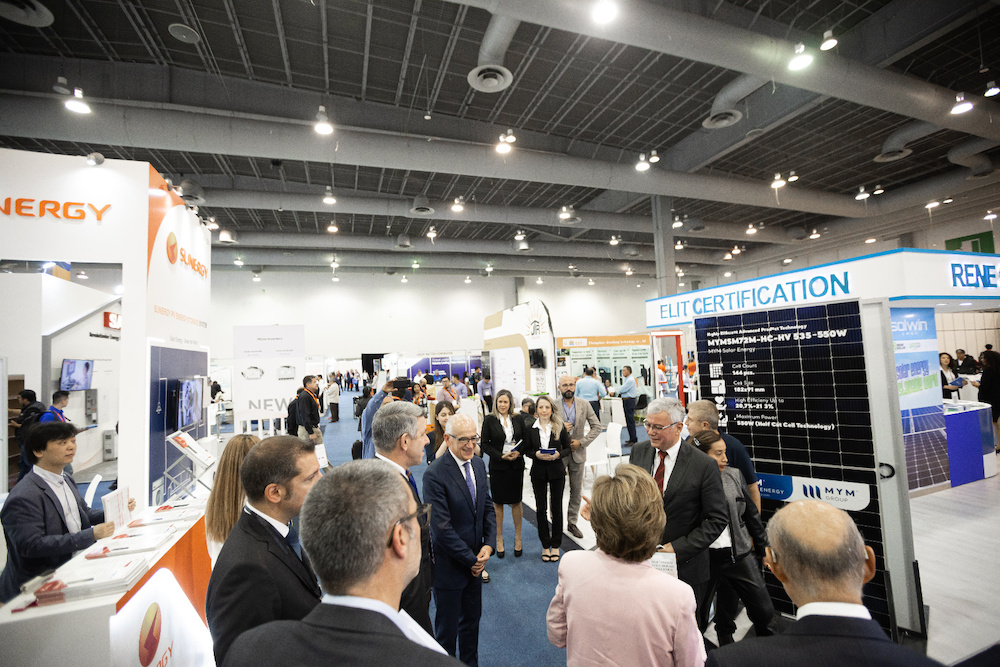 In this way, the synergy of THE GREEN EXPO®, Aquatech Mexico, Intersolar Mexico and MEXICO WINDPOWER®, fostered a productive exchange of expertise and solutions in environmental management, water technologies, solar and wind energy in one place. The next edition of this important B2B platform will be held on September 3-5, 2024, at Centro Citibanamex, Mexico City.
About Intersolar Mexico
Intersolar Mexico serves as the industry's go-to source for invaluable technology trends and premier B2B contacts in the promising Mexican solar market. Intersolar Mexico sits at the cross-section of photovoltaics, solar heating & cooling technologies, and energy storage. Together, the co-located events are the largest gathering of professionals in Mexico for international manufacturers and distributors looking to meet regional buyers in the fields of solar, renewable energy and cleantech.
Intersolar Mexico is organized by Solar Promotion International GmbH, Pforzheim and Freiburg Management and Marketing International GmbH (FMMI), and Tarsus.
Intersolar Mexico is part of the world's leading exhibition series for the solar industry. Since being founded more than 30 years ago, Intersolar has become the most important industry platform for manufacturers, suppliers, distributors, installers, service providers project developers, planners, and start-ups of the solar industry. Intersolar exhibitions and conferences are held in Munich, San Diego, Gandhinagar, São Paulo, Dubai and Mexico City.
For more information about Intersolar Mexico, please visit: www.intersolar.mx
About Tarsus / THE GREEN EXPO®
Tarsus is the organizer with the longest track record in the Mexican market since 1991, presenting international quality events with trends, innovations, and the global and local scene of the industries it promotes, such as PLASTIMAGEN® MÉXICO, EXPO MANUFACTURA®, and THE GREEN EXPO®. Tarsus is part of the Tarsus Group, one of the most important organizers worldwide. Headquartered in London, the Tarsus Group organizes more than 180 events: Tarsus Medical, Connect Meetings, Dubai Air Show PLASTIMAGEN® MÉXICO and the Labelexpo world series.
For more information about Tarsus, please visit: www.tarsus.com